Last Updated on April 7, 2023
Anti-inflammatory food should play a starring role in your healthy diet, protecting you from disease and making you look and feel better. Are you getting enough anti-inflammatory food?
How inflammatory is your diet? If you eat a lot of processed food, you may be setting yourself up for chronic inflammation, which can lead to a host of health disorders you're wise to avoid. Researchers now believe that inflammation is what's behind the huge rise in chronic disease in industrialized countries.
Chronic inflammation has been linked to numerous modern health problems, including
Controlling inflammation not only improves your chances of avoiding debilitating disease, you'll look and feel better also!
Causes of Inflammation
Diet and lifestyle are the main factors in chronic inflammation. Smoking, stress, and insufficient sleep are the most common lifestyle causes of inflammation. A lot of that fake food I'm always railing against also causes some very inflammatory responses in your body.
Foods that cause inflammation:
There's some evidence of a connection between gut health and inflammation, so eating for a healthy gut should help reduce inflammation in your body. As it turns out the foods your gut likes best are also on the list of anti-inflammatory food!
Here's a good overview article with links to studies showing the effects of these foods on inflammation.
Top Anti-Inflammatory Food
Limiting the inflammatory foods listed above is an important first step to decreasing inflammation in your body. Next, up your intake of anti-inflammatory food. Some of your favorite fruits and veggies are excellent sources of anti-inflammatory compounds, including
→Note that members of the nightshade family (tomatoes, peppers, eggplant, and potatoes) may aggravate rheumatoid arthritis, so you may want to avoid them to see if symptoms improve.
Omega-3 fatty acids, found in fatty fish like wild-caught salmon (avoid farmed fish) as well as walnuts, chia seeds, flax, and purslane, also have potent anti-inflammatory powers. Winter squash (including pumpkin) and leafy greens are sources of omega-3s as well.
Probiotic-rich foods like sauerkraut, kefir, yogurt, and kombucha are also helpful for reducing inflammation because they nourish a healthy gut, which plays a key role in inflammation.
A number of herbs and spices also have some impressive anti-inflammatory properties. Try adding more spices like turmeric, ginger, cinnamon, oregano, thyme, rosemary, and sage to your dishes on a regular basis. I use a lot of thyme in the soups I make, and sprinkle cinnamon liberally on my oatmeal. I also add spices like ginger and turmeric to anti inflammatory smoothies. Here's a ginger tea that's great for preventing colds and addressing respiratory complaints.
I also love to use antioxidant rich ingredients in my herbal teas, like hibiscus and nettle. Brewing homegrown herbs into healing sun tea is also so much fun! Here are several herbal tea recipes to try that make it easy to incorporate anti-oxidant rich herbs into your day.
Many edible flowers are also rich sources of anti-inflammatory compounds.
Other anti-inflammatory food and drink:
An anti-inflammatory diet is delicious, full of color, flavor, and brimming with nutrients. The tempting recipes below should help inspire you to work more anti-inflammatory food into your rotation!
(Since turmeric is in a class by itself as an anti-inflammatory food, I gave it a post of its own, with its own recipe collection. Check out why you want to eat more turmeric here.)
Here are some of the top superfoods to add more beneficial antioxidants to your diet.
This post is one in a series of Savvy Health Hacks, super-easy ways to ensure your body has what it needs to function optimally. Ready to hack your health? Check out these other practical tips to help you fight colds, sleep better, ward off disease, and have more energy:
Delicious Anti-Inflammatory Food Recipes
These yummy ingredients can work in your favorite recipes, whether it's a vibrant salad, a garlicky soup or a chocolatey dessert. Check out these tantalizing recipes by healthy cooks from around the blogosphere!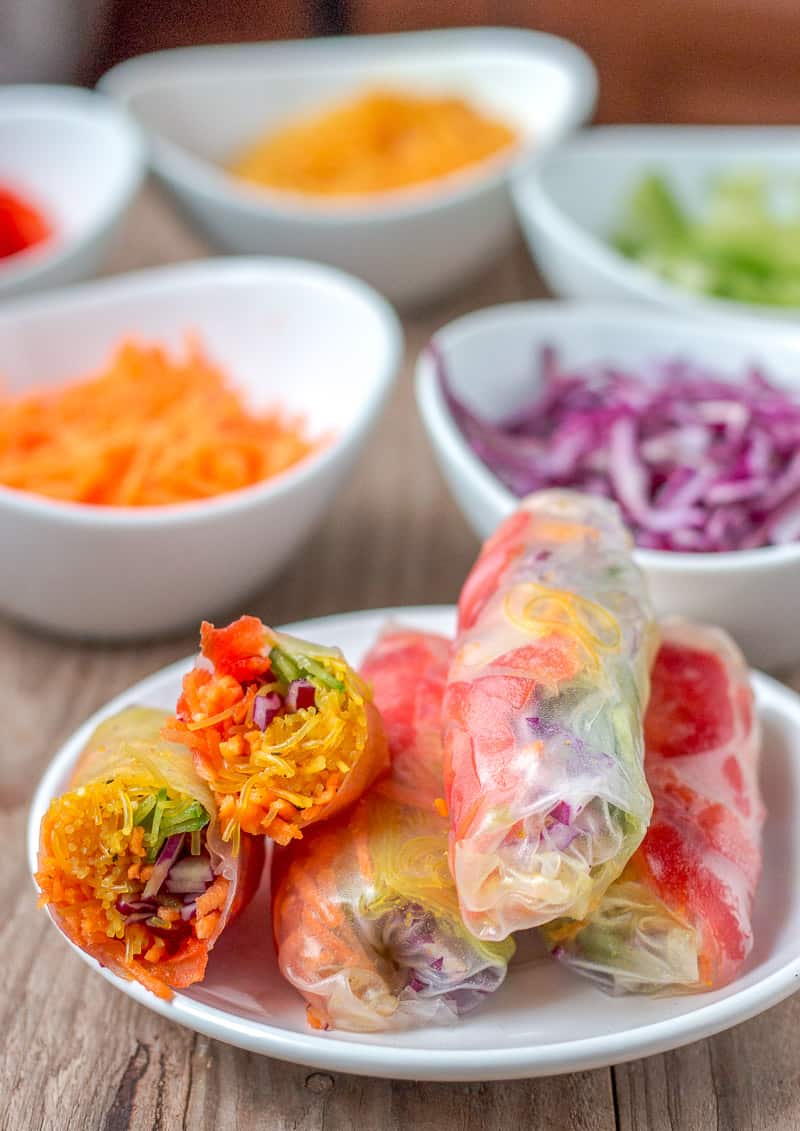 Eat the Rainbow Spring Rolls (Oh, the things we'll make!)
Rainbow Veggie Salad Rolls with No-Peanut Sauce (Forest and Fauna)
Lacto-fermented Beet Ginger Sauerkraut  (This is so good)
Simple Tom Yum Soup (Fearless Eating)
Creamy Ginger Dressing with Grilled Salmon and Roasted Asparagus (A Girl Worth Saving)
Honey Sesame Seared Salmon (Delicious Obsessions)
Autumn Veggie Bake with Turmeric (Studio Botanica)
Healthy Maple Sweet Potato Casserole (Raia's Recipes)
Salmon Ceviche Bites (Whole Beauty Foodie)
Vegan Flaxseed Paleo Tortillas (Oh, the things we'll make!)
Strawberry Chia Seed Jam (Oh, the things we'll make!)
Homemade Elderberry Syrup (HealthyGreenSavvy)
Anti Inflammatory Blueberry Smoothie (The Crafty Christian)
Hidden Veggie Smoothie (Kara Carrero)
Morning Tonic (Full of Days)
Pine Needle Tea (HealthyGreenSavvy)
Pomegranate Ginger Gummies (This is so good)
Immune-Boosting Elderberry Tea and Gummy Recipes (HealthyGreenSavvy)
Smooth Chocolate Chia Pudding (Raia's Recipes)
Homemade Dark Hot Cocoa (HealthyGreenSavvy)
What are your favorite anti-inflammatory foods and recipes? Share in the comments!
Healthy foods like these don't have to cost a fortune! Learn savvy ways to eat healthy on a budget in my FREE guide by filling out the form

here

.
Pin to save these anti-inflammatory food tips for later!
Disclaimer: I'm a health enthusiast, not a medical professional. Content on this website is intended for informational purposes only and is not meant to provide personalized medical advice. I draw on numerous health sources, some of which are linked above. Please consult them for more information and a licensed professional for personalized recommendations.
Photo credits: dbreen, ruthieprasil, Ayurvedic India, Oh, the things we'll make, Delicious Obsessions, Oh, the things we'll make, This is so good, Einladung_zum_Essen
Susannah is a proud garden geek and energy nerd who loves healthy food and natural remedies. Her work has appeared in Mother Earth Living, Ensia, Northern Gardener, Sierra, and on numerous websites. Her first book, Everything Elderberry, released in September 2020 and has been a #1 new release in holistic medicine, naturopathy, herb gardening, and other categories. Find out more and grab your copy here.