Last Updated on August 31, 2023
Magnesium benefits hundreds of bodily processes, affecting everything from nerve and muscle function to sleep. Magnesium deficiency can mess with your immune function, sleep quality, and more. Here's how to make sure you're getting enough magnesium to feel your best!
Magnesium Benefits for Health
According to the National Institutes of Health, the majority of us aren't getting enough magnesium (about 320mg for adult women and 420mg for adult men).
Why should you pay attention to magnesium intake?
Long-term, insufficient magnesium can affect your health and quality of life in a number of ways, including:
sleep disorders

restless leg syndrome

migraines

diabetes

hypertension and cardiovascular disease

osteoporosis
Jot down what you ate yesterday and estimate how much magnesium you took in. Below are some foods high in magnesium. Did you eat some of these?
Foods high in magnesium to get you magnesium benefits:
Pumpkin seed kernels, 1 oz 156mg
Brazil nuts, 1 oz 107mg
Sunflower seed butter, 2 tbls 100mg
Chia seeds, 1 oz  95mg    
Almonds, 1 oz  80mg
Spinach, cooked ½ cup  78mg
Cashews, 1 oz 74mg
Peanuts, ¼ cup 63mg
Soymilk 1 cup 61mg
Black beans, cooked, ½ cup 60mg
Sesame seeds, 1/2 oz 50 mg
Edamame, cooked and shelled 50mg
Peanut Butter, 2 tbl 49mg
Dark chocolate 60-69% cacao 50mg
Molasses 1 tbl 48mg
Walnuts, 1 oz 45mg
Avocado, 1 cup cubed 44mg
Potato, 3 1/2oz 43mg
Yogurt, 8oz  42mg
Banana, 1 medium 32 mg
Milk 1 cup 24-27mg
Whole-wheat bread, 1 slice  23mg
You can look up more nutrition information in the USDA Nutrient database to find out the magnesium content of other foods you consumed. 
If you're like most Americans, you didn't come close, and in fact a lot of what you did consume may have contributed to lower magnesium levels!
Foods that interfere with magnesium absorption:
Caffeine

Alcohol

Salt

Sugar
Additionally, stress and some medications may affect your magnesium levels. Some sources suggest that phytic acid (found in grains), oxalates (found in spinach and other greens as well as tea), phosphates (in soda) and the fluoride and chlorine found in most drinking water may all affect magnesium levels.
(Here's the water filter we use to take out fluoride plus nearly 200 other contaminants!)
The Standard American Diet (SAD) –which contains large amounts of refined carbohydrates and salt and is grown in soil that's been depleted of minerals by industrial agricultural practices — doesn't help with widespread magnesium insufficiency.
Even our water has less magnesium than a century ago. Be good to your body and make sure it's getting enough of this critical mineral with foods high in magnesium every day.
Want to sleep better and prevent headaches? Getting more magnesium in your diet may help. So will cutting back on the caffeine, alcohol, and the rest of the things that lower magnesium levels.
Magnesium Benefits: How to Get Enough Magnesium
Regularly choosing foods high in magnesium will go a long way to keeping your magnesium levels up. Keep some pumpkin seeds and sunflower seeds handy for adding to salads, granola, and baked goods, or just snacking on plain.
Sprinkle some chia seeds on your oatmeal or try a chia pudding. (Here's the best deal I've seen on organic chia seeds).
Adding sesame seeds to salads, stir fries, and other dishes will add magnesium as well as a number of other important minerals.
Bean-based dishes and dips are other options to include in your rotation. (Find more recipes and meal ideas in my free e-book.) Snack on nuts when you need something satisfying to tide you over, or try some delicious chocolate-covered almonds for a healthier treat.
Magnesium Benefits ~ Apply Topically
Additionally, you can absorb magnesium through your skin. One easy way is to add some epsom salts (magnesium sulfate) to your next bath, along with some stress-relieving essential oils like lavender and clary sage, could help you sleep and feel better. Check out these easy DIY bath salts so you have what you need to get magnesium benefits every time you bathe. Or try these gorgeous lavender bath salts made with dried lavender.
No time for a nice soak in the tub? (Me neither!) Magnesium oil has been gaining popularity among folk trying to up their magnesium levels to get magnesium benefits.
You can buy it or make your own (try this recipe from Turning the Clock Back) and spray a little on your body if you think you could use more magnesium. It can tingle a little till you get used to it, so the bottoms of the feet (which are less sensitive) are a popular place to apply it.
Scratch Mommy has a DIY magnesium oil that includes soothing ingredients to avoid the sting and doubles as a moisturizer. Check out her recipe for DIY Hydrating Magnesium Oil here.
If you're up for something a little more complicated, you could whip up some homemade magnesium lotion like this one from The Homesteading Hippy. She adds some anti-inflammatory essential oils for extra soothing of sore muscles.
The Nerdy Farm Wife also has an intriguing-looking recipe that includes dandelions.
I just don't have time to make my own lotions, so I was thrilled when I found the Magnesium Lotion Shop. Magnesium lotion is all they sell, and they've made a silky, easy-to-use lotion with no sting! It's made in small batches and makes getting your daily magnesium benefits easy-peasy! Here's where to get yours.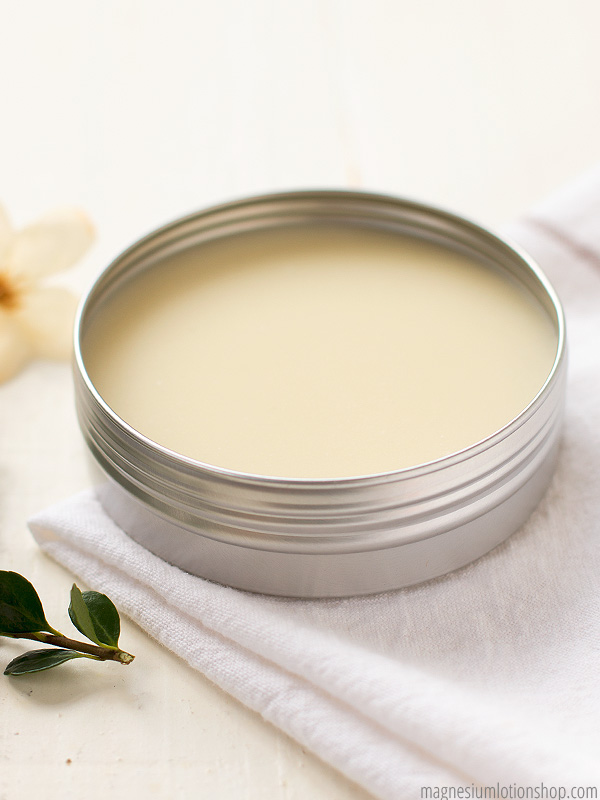 Some savvy bloggers are using magnesium to help their kids manage growing pains and sleep better. Mandi at Sweet Tiny Blessings found magnesium oil made a huge difference with her not-so-great sleeper.
The Hippy Homemaker uses homemade bath soak and massage oil that includes lots of soothing herbs to help her son when he complains of growing pains.
If you want to try supplementing your diet with magnesium, Chrystal at Happy Mothering has a fun recipe for a magnesium-gummy.
This post is one in a series of Savvy Health Hacks, easy ways to ensure your body has what it needs to function optimally. Ready to hack your health? Check out these other practical tips to help you fight colds, sleep better, ward off disease, and have more energy:
Do you eat plenty of foods high in magnesium? What are your favorite ways to get magnesium benefits?
Pin to save these magnesium benefits & foods high in magnesium for later!
Photo credits:  HealthAliciousNess.com, Steve N via Flickr
Susannah is a proud garden geek and energy nerd who loves healthy food and natural remedies. Her work has appeared in Mother Earth Living, Ensia, Northern Gardener, Sierra, and on numerous websites. Her first book, Everything Elderberry, released in September 2020 and has been a #1 new release in holistic medicine, naturopathy, herb gardening, and other categories. Find out more and grab your copy here.