Last Updated on September 8, 2023
Need some new ways to enjoy pumpkin this fall? These savvy food bloggers have you covered with some terrific healthy pumpkin recipes!
Check out these inspiring and healthy pumpkin recipes!
It's that time of year — everywhere you look someone is tempting you with pumpkin-flavored drinks, breads, and other goodies. Ready for some more temptation? Here are 75 mouth-watering healthy pumpkin recipes from bloggers who do some amazing things with pumpkin.
These folks know pumpkin is great for waaaaay more than breads — check out their inventive recipes for everything from fries to cheese to fudge! (Yes, fudge! You have to read all the way to the bottom for that one.)
Pumpkin is a delicious and nutritious ingredient that adds nutrient-filled veggies to your baked goods, soups, and mains. Pumpkin's a great source of potassium, fiber, and beta carotene, a potent antioxidant that protects your skin, eyes, and heart, and plays a role in immune system function.
Here's lots more on celebrating delicious seasonal foods and some top superfoods to consider eating more often.
And don't worry if you don't have pumpkin pie spice on hand — The Prairie Homestead has instructions for making your own pumpkin pie spice.
If you're up for a little extra prep, making your own pumpkin puree is a great choice, as it lets you bypass the BPA and "regrettable substitutes" in canned pumpkin. (Read this post about why you should avoid canned food when possible.)
And if you have a surplus of winter squash in your garden or CSA share, try baking it and adding it in place of pumpkin. We always get far more butternut squash than we can eat from our share, and a bunch winds up in "pumpkin" breads and muffins. Everblossom also has a great how-to on turning pumpkins into flour!
Don't forget to save the seeds! Roasting pumpkin and squash seeds is one of the joys of fall, and these nutritious little gems belong in your oven, not the compost or trash! Get a hefty dose of magnesium chomping on these satisfying snacks. (More root to stem recipes here.)
Pumpkin seeds are a great food to improve sleep quality because of their magnesium content.  Soaking them first, as with other seeds, nuts, and grains, makes the nutrients more available to your body. Here are instructions for making soaked and roasted pumpkin seed 3 ways from This is so good.
Making Pumpkin Recipes as Healthy as Possible
As you know, I generally shoot for the healthiest versions of foods possible, but everyone's definition of healthy is a little bit different. Here are some principles I use to evaluate and adjust recipes:
I recommend either whole grain flour, or unrefined gluten-free options. Some of the recipes in this collection use white flour or other refined flours. You can try to substitute whole grain, or eat the dish in moderation. (I mostly use organic white whole wheat flour and coconut flour. Almond flour is another good gluten-free choice that adds a little extra protein.
Avoid cans when possible!

If you're making a pumpkin chili with beans, I think it's best to make them from dried, soaking them beforehand — you get to avoid whatever seeps into food from can linings, just like with pumpkin.

Pick healthy fats

, like coconut oil or organic/pastured butter over refined oils like canola or "vegetable" oil, which have been shown to cause inflammation.

Go organic wherever you can.

There's nothing healthy about eating chemicals meant to kill insects. Organic and grassfed meat are also preferable to CAFO-raised.

Skip the sugar and artificial sweeteners, and use "natural" sweeteners like honey and maple syrup as sparingly as possible. While better than those made with refined sugar, these sweet treats are still treats so eat accordingly. Here's how much sugar per day is considered OK by most nutritionists.
Here's more on a simplified approach to healthy eating.
Including treats in your diet is also a key part of making your choice to eat healthy sustainable, so go ahead and indulge, just make sure it's only occasionally. If you can get the chemicals and processed food out of your diet, you're doing a great job! Here are plenty more options for healthy treats to satisfy your sweet tooth without wrecking your diet.
OK, now what you've been waiting for — onto the healthy pumpkin recipes!
Healthy Pumpkin Recipes: Savory 
Stuffed Pumpkin from Raising Generation Nourished
Healthy Homemade Chili from Kara Carrero
Savory Pumpkin Curry from MyPALeos
Savory Pumpkin Soup from The Organic Kitchen
Roasted Garlic Rosemary Pumpkin Hummus from Pinch of Yum
Pumpkin White Bean and QuinoaVeggie Burgers from avocado pesto
Pumpkin Burger from Peas and Crayons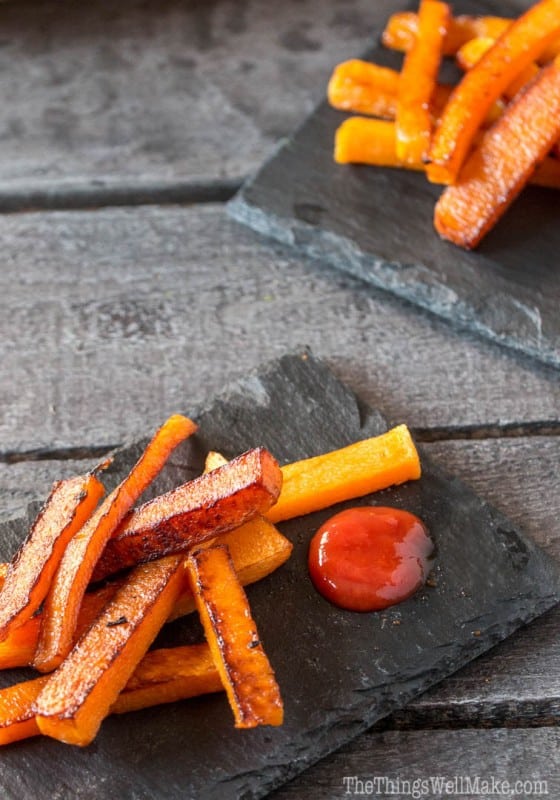 Baked Pumpkin Fries from Oh, the things we'll make
Roasted Pumpkin Soup from Raising Generation Nourished
Spicy Thai Curry Pumpkin Noodle Soup from My Food Story
Quinoa Black Bean Pumpkin Soup from avocado pesto
Pumpkin Risotto (made with whole grain farro) from Girl Makes Food
Cannelini Bean Pumpkin Risotto from Avocado a Day Nutrition
Pumpkin and Kale Pasta Bake from MJ and Hungryman
Pumpkin Ravioli from Alexandra Cooks
Pumpkin Pizza Crust from Sweet as Honey
Savory Pumpkin Bread Pudding from the Wholesome Dish
Vegan Pumpkin Ravioli from Veganosity
Pumpkin Ricotta Gnocchi from The Bojon Gourmet
Pumpkin Seed Cilantro Pesto from Seeking Joyful Simplicity
Vegan Pumpkin Cheese from Oh, the things we'll make
Healthy Pumpkin Recipes: Drinks
Pumpkin Spice Vegan Milkshake from Creative Green Living
Pumpkin Spice Smoothie from The Pistachio Project
Pumpkin Hot Cocoa from GAPS diet journey
Pumpkin Spice Latte from Against All Grain
Pumpkin Harvest Smoothie from A New Day
>>>> Need more smoothie ideas? Here are 50 delicious and creative healthy smoothie recipes!
Healthy Pumpkin Recipes: Breakfast and Baked Goods
Overnight Pumpkin Pie Oatmeal from Creative Green Living
Pumpkin Pancakes from Studio Botanica
Pumpkin French Toast from Hungry Hobby
Pumpkin Pancakes with Ginger Honey Butter from Recipes to Nourish
Grain Free Sugar Free Pumpkin Pancakes from Sugar Free Mom
Pumpkin Spiced Baked Oatmeal Cups from Raising Generation Nourished
Breakfast Pumpkin Cookies from Natural Paleo Family are sweetened with bananas!
Baked Pumpkin Donuts from Real Food Real Deals
Pumpkin Chia Seed pudding from This is so good
Pumpkin Pie Leather from This West Coast Mommy
Pumpkin Cheddar Biscuits  from This is so good
Pumpkin Breakfast Cookies from LeeLalicious
Pumpkin Banana Bread from Hip Foodie Mom
Whole Wheat Applesauce Bread from Family Food on the Table
Healthy Pumpkin Parfait from The Food Hunter's Guide to Cuisine
Pumpkin Bread (gluten, grain and dairy free) from GAPS Diet Journey
Pumpkin Cranberry Oat Bars from Real Food Real Deals
Pumpkin Cookie Kisses from GAPS Diet Journey
Grain Free Pumpkin Spice Biscotti from Oh, the things we'll make!
Pumpkin Granola Bars from A Virtual Vegan
Pumpkin Spice Dip with Apple Fries from Oh, the things we'll make!
Pumpkin Chocolate Chip Muffins from A Modern Homestead
Pumpkin Poppers from GAPS diet journey
Flourless Pumpkin Gingerbread Blondies from A Big Man's World (only 4 ingredients!)
Pumpkin Scones from The Homesteading Hippy 
Pumpkin Nut Sourdough Muffins from Reformation Acres
Pumpkin Peanut Butter Oatmeal Bars from Well Plated by Erin
Healthy Pumpkin Pie The Pistachio Project
Whole Grain Pumpkin-Filled Cookies from Reformation Acres
Vegan Brownies from Good Mama Gracie
Coconut Milk Pumpkin Pie Custard from GAPS diet journey
Healthy Pumpkin Soft Serve from Make the Best of Everything
Maple Pumpkin Spiced Popcorn from The Organic Kitchen
Pumpkin Pudding with Snickerdoodle Crumb Topping from This is So Good
Clean Pumpkin Cinnamon Rolls from Amy's Healthy Baking
Chocolate Pumpkin Muffins from The Dinner Mom
Pumpkin Brownies from Real Food Real Deals
Paleo Pumpkin Bars from Hummusapien
Pumpkin Butter Cups from Food Hunter's Guide to Cuisine
Pumpkin Spice Donut Holes from Whole and Heavenly Oven
No Bake Pumpkin Spice Latte Bites from The Big Man's World
Chocolate Truffle Pumpkin Muffins Amy's Healthy Baking
And check out these inventive 3-ingredient pumpkin treats from The Big Man's World! (The last one's the fudge I promised you.)
Love desserts with hidden veggies? Check out this recipe for homemade fruit leather made from rhubarb and easy and delicious rhubarb crisp. Or peruse some of these collections of veggie-focused recipes featuring super-healthy ingredients:
What are your favorite healthy pumpkin recipes? Which of these healthy pumpkin recipes will you try next? Share in the comments!
Pin to save these healthy pumpkin recipes for later!
Photo Credits: Everblossom, Raising Generation Nourished, Oh, The Things We'll Make, Creative Green Living, Natural Paleo Family, A Virtual Vegan, Reformation Acres, Food Hunter's Guide to Cuisine, CongerDesign
Cover photo: Roxiller  Pin: Virtual Vegan, Ewgenija_s, Mykola Lunov, laperla_foto
Susannah is a proud garden geek and energy nerd who loves healthy food and natural remedies. Her work has appeared in Mother Earth Living, Ensia, Northern Gardener, Sierra, and on numerous websites. Her first book, Everything Elderberry, released in September 2020 and has been a #1 new release in holistic medicine, naturopathy, herb gardening, and other categories. Find out more and grab your copy here.