Last Updated on January 26, 2023
Whether you're building new, thinking about renovating, or are in the middle of a building project, you can keep toxins out of your home and save energy armed with a little knowledge about green remodeling. Here's a green remodeling primer to get you started.
Why Green Remodeling?
I've been following the green building industry for over 15 years, and boy, things have come a long way. When we started renovating our 100-year-old house in 2002, few "green" products were available locally, and far less had been written about the toxins common in many building supplies. I used lots of polyurethane and stinky paint that I would never consider using again knowing what I've learned since.
Unfortunately, most of these potentially hazardous products remain the norm in the building trade, and many people remain unaware of the risks or of the non-toxic alternatives available. Maybe you're one of them. I hope these green remodeling tips and resources help you make healthier decisions in your next building project.
Since my first forays into DIY home renovation nearly 15 years ago, the green building industry has expanded dramatically, with many "green" options available in big-box stores as well as through online distributors.
We're talking about lots more than VOCs in paint. If you'd rather keep formaldehyde, fire retardants and other unsavory substances out of your house, you'll have to do your "homework," as most contractors don't know a lot about non-toxic options. (And many don't seem to care.)
Green Remodeling 101: Don't Bring Toxins into Your Beautiful New Living Space
With every choice you make about the materials used in your project, you're deciding what may be in the air of your home for years to come, ranging from VOCs offgassing from paint and cabinetry to fire retardants that wind up in household dust. While some green products might cost a bit more, in the grand scheme of a remodeling budget a few extra bucks for non-toxic caulks and adhesives is hardly worth sweating over.
It can be overwhelming with all the decisions about fixtures, patterns, layout and such, but if you're concerned about creating the healthiest home for your family, it's worth a little extra work not to leave all these decisions to your builder, who will likely be guided by what s/he's familiar with, what's cheapest, and what's readily available. Understanding some basics about green remodeling will help you make informed decisions about the products you bring into your home.
Start by educating yourself on things like energy conservation and alternatives to toxic flooring and coating options. One great way to learn a lot about the workings of your house is a home energy audit, which is often heavily subsidized by utility companies and pays for itself very quickly. You'll find out where the leaks in your home are, and the best ways to save energy with sealing, insulation, and efficiency tools.
If you live near a natural home store, a short visit and a chat with a salesperson can get you familiar with some of the green choices out there, including flooring, paints and finishes, countertops, and water-saving devices.
If you don't have a store near you, I highly recommend the knowledgeable folk at Green Building Supply. Their website is chock-full of helpful information. If you want to get a sense of the options you might consider for a greener remodel, hover over their "All Products" tab and you can check out paint, adhesives, countertops, flooring, even cabinetry.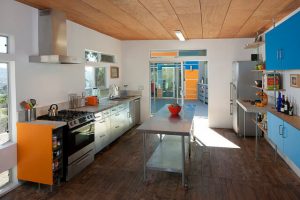 Green remodeling supply checklist:
Flooring: Skip the petroleum-based carpet and PVC-containing vinyl. Instead, look for natural materials like cork, linoleum, bamboo, wool, or FSC-certified hardwood.
Adhesives and sealers: Caulks and glues contain some pretty unpleasant industrial chemicals, and there are some terrific non-toxic alternatives. AFM Safecoat is a leader in the non-toxic home products biz. I've really liked their stains and finishes, and our builders are using their caulks and adhesives.
Coatings: You can get non-toxic paint, stain, sealers, and finishes from AFM Safecoat and other companies carrried by Green Building Supply
Countertops, cabinetry, shelving: Look for non-toxic finishes and materials as well as recycled content. Again, Green Building Supply has a number of options as well as knowledgeable staff that can help you make selections.
Insulation:

Insulation is a very complicated subject, and what works best depends a lot on where you live and how your home is constructed. Check out

these posts

before you start spraying

truly worrisome stuff

into your walls.
Also, don't forget to test for radon, an odorless, invisible gas that may cause cancer. Learn more than you ever wanted to know about radon here.
In addition to what's going in to your renovation, you should also be mindful of what's coming out. Many homes built before the 1980s contain asbestos in various building materials including insulation, tiling, plaster, adhesives and more.
When tiny asbestos fibers are disturbed (like during renovation), sent airborne and inhaled, they can cause a rare cancer called mesothelioma. Hire a professional to test and remove asbestos if your home is older, as no exposure to this dangerous material is safe. Learn more about mesothelioma and the dangers of asbestos here.
Be sure your contractor is also careful about the dust generated by demolition, which can contain lead from paint and other harmful compounds.
Related: How to Design a Healthy Home ~ A Blueprint from an Architect
Green Remodeling Can Save You Money
Remember to prioritize energy efficiency. This means insulating and sealing as much as possible and choosing energy-efficient lighting and appliances. Remember that spending a little more upfront for extra insulation or an efficient furnace is a smart investment because you will save more money over the life of the product.
If you're thinking of replacing your furnace or air conditioning, be sure to look into heat pumps, which are WAY more efficient than conventional equipment. The incentives that take effect in 2023 make them less expensive than their less efficient counterparts for those who qualify. Find out more about the pros and cons of heat pumps.
Sealing up leaks and making some common-sense adjustments is a simple way to save energy, even if you're not doing a big remodel. Check out these simple energy-saving tips and start saving energy immediately.
Related: How eco-friendly choices can save you money
Water-saving devices save energy as well as water because you will pay less to heat your water. So choose the lower-flow toilet and shower, most efficient washing machine, and consider adding these inexpensive aerators to sink faucets to slow the flow. (If you already have a toilet and want a low-flow option this cool dual flush conversion kit lets you turn any toilet into a dual flush. We've had one for years, and it's saved us thousands of gallons of water.)
By attuning yourself to the materials you're using in your remodeling projects, you can create a far healthier, greener home.
Have you considered green remodeling? What green choices did you make in your last remodeling project?
Pin to save these green remodeling tips for later!
Even if you're not planning a remodel, your daily decisions affect your family's exposure to poorly-understood toxins. Get my checklist and resource guide "9 Steps to a Less Toxic Home" to find out how to make your house less toxic. Just fill in the form
here
.
Additional photo credits: Benjamin Chan, Jeremy Levine, stockmonkeys.com via Flickr
Susannah is a proud garden geek and energy nerd who loves healthy food and natural remedies. Her work has appeared in Mother Earth Living, Ensia, Northern Gardener, Sierra, and on numerous websites. Her first book, Everything Elderberry, released in September 2020 and has been a #1 new release in holistic medicine, naturopathy, herb gardening, and other categories. Find out more and grab your copy here.