Last Updated on January 1, 2022
Tap into the terrific health benefits of turmeric, effective for pain relief and more. Plus more than 20 delicious turmeric recipes from around the blogosphere!
I'm all about shortcuts to better health, and getting turmeric in your diet makes my shortlist of super-savvy moves to get better health with minimal effort. (Want to know some others? Check out the benefits of vitamin D, why to sit less and how to reduce chemical exposure for practical ways to support health that don't require much time, money, or effort.)
By now you've probably come across several stories in mainstream media and health websites touting the amazing health benefits of turmeric. The active compound in turmeric, curcumin, has been studied for everything from arthritis management to cancer prevention.
Since turmeric is a potent anti-inflammatory and inflammation is at the root of so many chronic diseases, getting more turmeric into your diet is a smart move. Whether you're treating run-of-the-mill sore muscles or arthritis, working more turmeric into your diet may help you feel better while staving off more serious illnesses.
Haven't figured out how to do that yet? Check out the tempting recipes at the bottom of the post!
Some of the many health benefits of turmeric:
General anti-inflammatory

Cancer prevention

Indigestion relief

Cardiovascular health
The University of Maryland Medical Center reports:
"Curcumin is also a powerful antioxidant. Antioxidants scavenge molecules in the body known as free radicals, which damage cell membranes, tamper with DNA, and even cause cell death. Antioxidants can fight free radicals and may reduce or even help prevent some of the damage they cause."
Want to work more antioxidants into your daily diet? Check out these top superfoods.
Cautions:
Because turmeric has blood-thinning properties, if you're on blood-thinning medication or are about to have surgery, you should discuss turmeric with your doctor before taking it.
The University of Maryland Medical Center also warns:
"Taking large amounts of turmeric for long periods of time may cause stomach upset and, in extreme cases, ulcers. People who have gallstones or obstruction of the bile passages should talk to their doctor before taking turmeric.
If you have diabetes, talk to your doctor before taking turmeric supplements. Turmeric may lower blood sugar levels. When combined with medications for diabetes, turmeric could cause hypoglycemia (low blood sugar).
Although it is safe to eat foods with turmeric, pregnant and breastfeeding women should not take turmeric supplements."
IMPORTANT TO NOTE: A compound in black pepper called piperine has been shown to greatly increase the bioavailability of curcumin. Add black pepper to dishes that include turmeric, or if you're supplementing be sure to choose a supplement that includes piperine. Bromelain also seems to increase turmeric absorption, so some supplements include that instead. 
How much do I need to enjoy the health benefits of turmeric?
A little turmeric used often in food (combined with black pepper) is a good way to start. You can sneak it into eggs, soups, dips and smoothies. Check out some of the tempting recipes below and enjoy the health benefits of turmeric together with other great anti-inflammatory foods, like kale, tomatoes, or ginger! 
**If you choose to supplement, you should discuss dosages with your doctor.**
Apparently, you can also whiten your teeth with it! (I've never tried. Let me know if it works for you!)
Where to Buy Turmeric
The least expensive route for spices of all sorts is buying in bulk. If you have a bulk spice section in your natural food store, bring an old spice jar and refill it for less than half of the cost, depending on the spice.
I refill my jar of organic turmeric for less than a dollar, though a new jar costs more than 4 times as much. If you don't have bulk herbs and spices near you, you can order them online as well.
A pound of turmeric will likely last you a very long time, so you may want to share with friends! Here's a good price on a pound of organic turmeric, a huge savings over the cost of buying jars.
Need more motivation to buy quality organic spices in bulk? Check the list of recently recalled turmeric sold by Gel Inc (includes Market Pantry brand, if you're a Target shopper) because of lead contamination concerns.
You can also buy fresh turmeric root, which looks a lot like its more common cousin, ginger. It's not always easy to find, though, so you might consider growing your own from a purchased root.
It will take some patience, however: Turmeric takes 8-10 months to mature. On the positive side, you can replant it endlessly and won't have to buy fresh root again.
This post is one in a series of Savvy Health Hacks, easy ways to ensure your body has what it needs to function optimally. Ready to hack your health? Check out these other practical tips to help you fight colds, sleep better, ward off disease, and have more energy:
Now, on to the recipes, everything from soup to mains, to drinks and desserts — more than 20 delicious ways to enjoy the health benefits of turmeric!
Get the Health Benefits of Turmeric with these Delicious Recipes!
Ginger Turmeric Butternut Squash Soup (Bowl of Delicious)
Ginger Turmeric Carrot Soup (Gourmande in the Kitchen)
Delicious Turmeric Dip (Studio Botanica)
Turmeric Sweet Potato Hummus (Sprinkle of Green)
Golden Sauerkraut (Green Kitchen Stories)
Chickpeas in Turmeric Peanut Butter Curry (Vegan Richa)
Turmeric Chickpea Cakes (Pure Ella)
Vegan Turmeric Quinoa Power Bowls (Jar of Lemons)
Turmeric Roasted Carrots  (This is so good)
Morrocan Roasted Vegetable Tagine (Paeo Hacks)
One Tray Turmeric Chicken (The Little Green Spoon)
Spiced Chicken Stew (Paleo in PDX)
Turmeric Chicken Kale Salad with Honey-Lime Dressing (Eat Drink Paleo)
Anti-inflammatory Smoothie with Purslane, Pineapple, Ginger, and Turmeric (HealthyGreenSavvy)
Golden Mango Smoothie (This is so good)
Sunshine in a Glass (Studio Botanica)
Turmeric Bug (Grow, Forage, Cook, Ferment)
Creamy Turmeric Ginger Tea (Recipes to Nourish)
Anti-inflammatory Blueberry Smoothie (The Crafty Christian)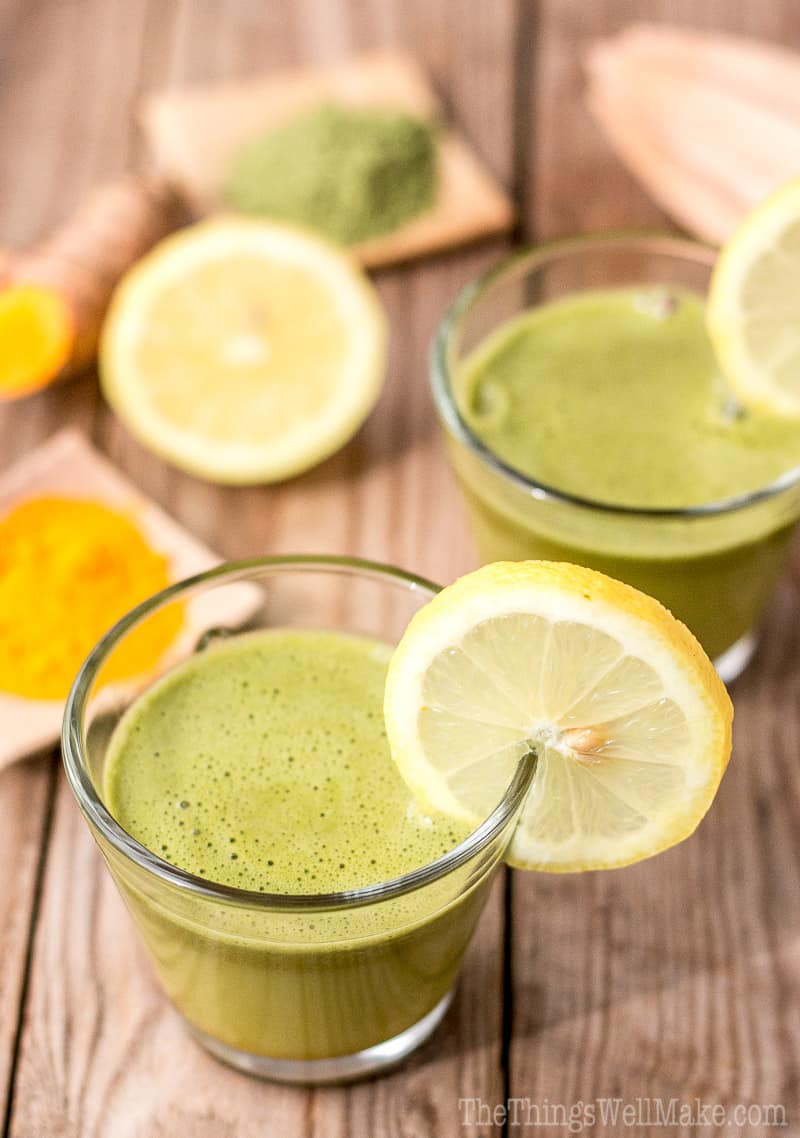 Green Turmeric Lemonade (Oh, the things we'll make)
Flu-Busting Citrus and Turmeric Gummies (Greens of the Stone Age)
Mango and Turmeric Raw Cupcakes (Nirvana Cakery)
Golden Milk Ice Cream (Minimalist Baker)
What are your favorite ways to enjoy the health benefits of turmeric? Share in the comments!
Pin to save these health benefits of turmeric for later!
Disclaimer: I'm a health enthusiast, not a medical professional. Content on this website is intended for informational purposes only and is not meant to provide personalized medical advice. I draw on numerous health sources, some of which are linked above. Please consult them for more information and a licensed professional for personalized recommendations.
Photo credits: Steven Jackson, Ajale, Forest and Kim Starr, Bowl of Delicious, This is so good, Oh, the things we'll make, Osha Key
Susannah is a proud garden geek and energy nerd who loves healthy food and natural remedies. Her work has appeared in Mother Earth Living, Ensia, Northern Gardener, Sierra, and on numerous websites. Her first book, Everything Elderberry, released in September 2020 and has been a #1 new release in holistic medicine, naturopathy, herb gardening, and other categories. Find out more and grab your copy here.