Last Updated on January 23, 2023
Not sure what to do with all that zucchini? These creative food bloggers have you covered with some mouth-watering and healthy zucchini recipes!
Whether you want to make a nourishing soup or some indulgent brownies, try these inventive uses for that ubiquitous summer squash. Read on to find your new favorite healthy zucchini recipes!
Why to Add Zucchini to Your Next Meal
If you're reading this in summer, zucchini's booming in the garden now — even if you don't have a garden, you probably know someone who's begging you to take some off their hands. Or leaving it on your doorstep in the dead of night. It's also cheap and abundant at your local farmers' market or CSA. Even at other times of year, zucchini's usually a pretty affordable veggie.
Though not exactly the most glamorous garden gem, zucchini is a versatile ingredient that can be used in a huge array of dishes — everything from soup to brownies! Yes, I said brownies!
While you might not eagerly await zucchinis the way you do, say, ripe summer tomatoes, this humble squash works really well in a surprising number of dishes. Somewhat bland zucchinis lend themselves brilliantly to dozens of delicious recipes.
Zucchini is a low-calorie, high fiber veggie with a decent amount of potassium. When possible, choose the freshest, firmest zucchini you can get but don't sweat it if you've got some of the bigger types that escape our attention in the garden till they look like giant green torpedoes. Oversize zucchini can still be shredded up for baking, or tossed in dishes that will cook awhile, like this super-easy ratatouille.

What to do with that bumper crop of zucchini?
I asked some seasoned food bloggers for their favorite healthy zucchini recipes, and boy, do these gals know their way around zucchini! Check out some of their creative recipes for scrumptious zucchini dishes.
Working our way from simplest to most complicated recipes (more or less), here are more than 50 healthy zucchini recipes to put all that surplus zucchini to delicious use!
(Root-to-stem tip: Save the liquid you squeeze from shredded zucchini and add it in place of water to your next soup. It adds a pleasant sweetness and lets you get all the nutrition from your zukes!)
Zucchini Recipes: Snacks and Sides
Here are a bunch of great ways to make simple yet tasty and healthy zucchini sides:
Have you tried zucchini fries or crisps yet?
They're incredibly easy and really tasty — you'll be scouting out more zucchinis to make these! There's something about baking zucchini with a topping of cheese that concentrates the flavor and gives zucchini a terrific texture. You can bake them a shorter time for a succulent chip, or crisp up thin slices — it's all good!
Raising Generation Nourished has a simple recipe for kid-approved parmesan baked zucchini spears.
Recipes to Nourish makes garlic zucchini fries. 
I make these easy and yummy baked parmesan zucchini rounds from Five Heart Home often these days.
Other healthy zucchini recipes for snacks and sides:
Dehydrated zucchini chips make a crunchy and tasty snack, for minimal calories. Go ahead and eat 'em all! Here's a recipe for garlic and herb zucchini chips from This Is So Good. And It Takes Time has a recipe for turning zucchini into sour cream and onion veggie chips.
Or try these lacto-fermented zucchini sticks from Learning and Yearning. Great for gut health!
Food Hunters Guide has an apple-zucchini slaw that would be perfect for late-summer picnics.
The Pistachio Project has an easy zucchini fritter recipe, and the Organic Kitchen makes zucchini fritters with lemon ricotta (with a gluten-free option).
Baked cheesy zucchini bites from Mel's Kitchen and zucchini tots ("zots") from Creative Green Living also feature the glorious combo of cheese and zucchini.
Delicious Balance makes these yummy zucchini pancakes with lemon tahini sauce.
Just Take a Bite makes adorable zucchini pizza bites and creamy zucchini egg muffins. Yum! Cooking Classy turns her zucchini into zucchini pizza boats.
Zucchini also makes a great addition to your next smoothie. Here are more than 50 creative and delicious healthy smoothie recipes.
Healthy Zucchini Recipes: Soups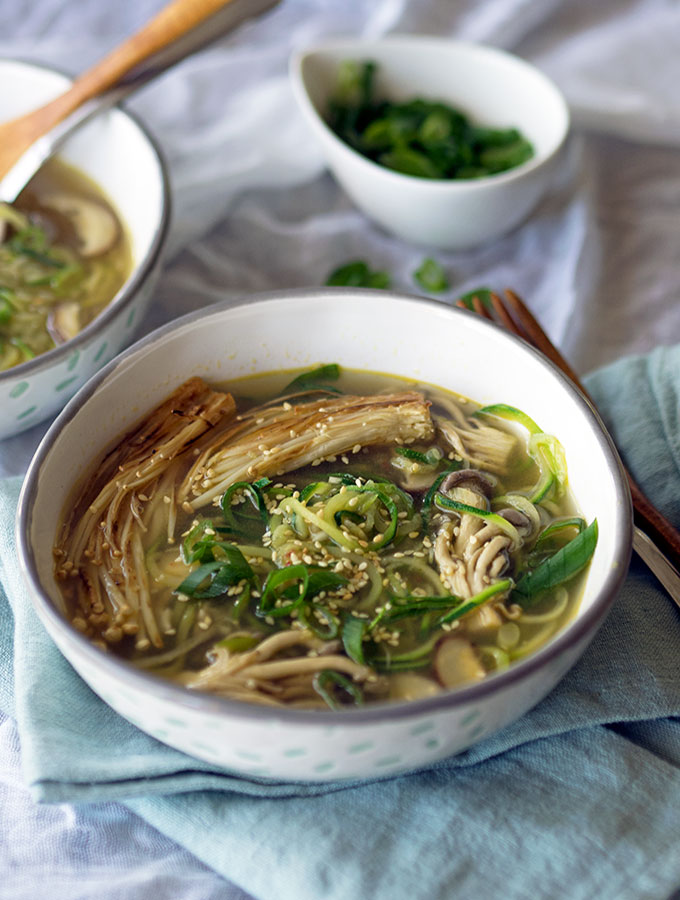 Some luscious soup recipes featuring zucchini: 
Creamy Zucchini Soup (Divine Health From the Inside Out)
Mushroom Zoodle Soup (Belly Rumbles)
Zucchini Chorizo Butter Stew (Eat Beautiful)
Instant Pot Summer Vegetable Soup (Raising Generation Nourished)
Zucchini Basil Soup (Food Hunter's Guide)
Healthy Zucchini Recipes: Mains
Zoodles have become a popular replacement for pasta, subbing an extra serving of veggies for grains, which most of eat too much of.  Here are 6 fabulous zoodle recipes: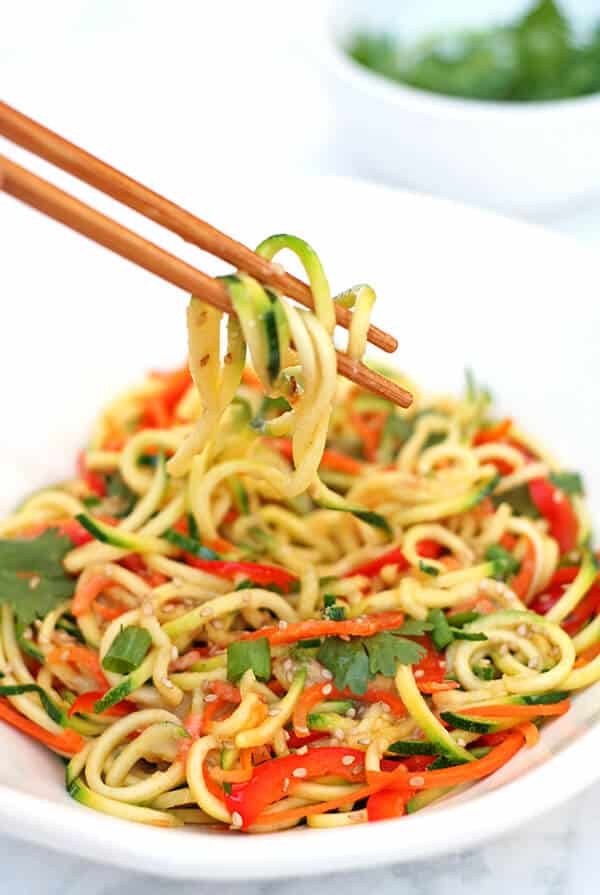 Miso zucchini noodles (A Virtual Vegan)
Rosemary and Thyme Roasted Shrimp with Zoodles (This is so good)
Spinach Tomato Zoodle Pasta (Fit As a Mama Bear)
Zucchini Noodles with Ginger and Tomatoes (Organic Kitchen)
Zoodles with Creamy Corn Sauce (Pinch of Yum)
Thai Peanut Chicken Zoodle Bowl (Almost Supermom)
Sliced zucchini can also replace the noodles in lasagna! Check out this zucchini lasagna from Grow a Good Life, or this allergy-friendly zucchini lasagna recipe from Whole New Mom.
You can even use zucchini in a grain-free pizza crust! Check out Mommypotamus's recipe for zucchini pizza crust. Or try these homemade tortillas with zucchini from Sweet as Honey.
Add some zucchini to your next pesto — here's a recipe for raw vegan pesto from Small Footprint Family.
The Rising Spoon makes her white chicken chili with zucchini.
Or try this paleo tabbouleh made with zucchini "rice" from Forest and Fauna or Greek zucchini pie from Nutritioulicious. Just Take a Bite has a recipe for rustic chicken zucchini pie.
And of course, don't forget ratatouille, that quintessential summer dish combining eggplant, tomato, and zucchini. Over pasta with cheese (or even without!) ratatouille makes a delicious meal. Ratatouille freezes well, so if you make big batches, you can enjoy these delicious summer flavors in winter.
Related: Health Benefits of Sweet Potatoes and Delicious Ways to Enjoy Them!
Healthy Zucchini Recipes: Breads, Muffins, Cakes & More
You've probably had zucchini bread, but have you tried zucchini cake or brownies? They're fantastic! Shredded zucchini makes a stellar addition to baked goods, which gain moistness and nutrition from shredded squash. Try using some of your overgrown zukes in some of these mouth-watering recipes:
Whole Wheat Vegan Zucchini Bread (Delicious Balance) 
Chai Spice Zucchini Bread (gluten and grain free) (This Is So Good)
Coconut Flour Zucchini Bread (Small Footprint Family)
Gluten and Dairy Free Blueberry Zucchini Muffins (Just Take a Bite)
Flax and Walnut Zucchini Muffins (Veggie Inspired Journey)
Flourless Chocolate Zucchini Muffins (Running with Spoons)
Zucchini Cornbread with Hot Peppers and Cheese (Kneady Girl)
Chocolate Zucchini Scones (gluten and dairy free) (Just Take a Bite)
Grain Free Chocolate Zucchini Bread (Primally Inspired)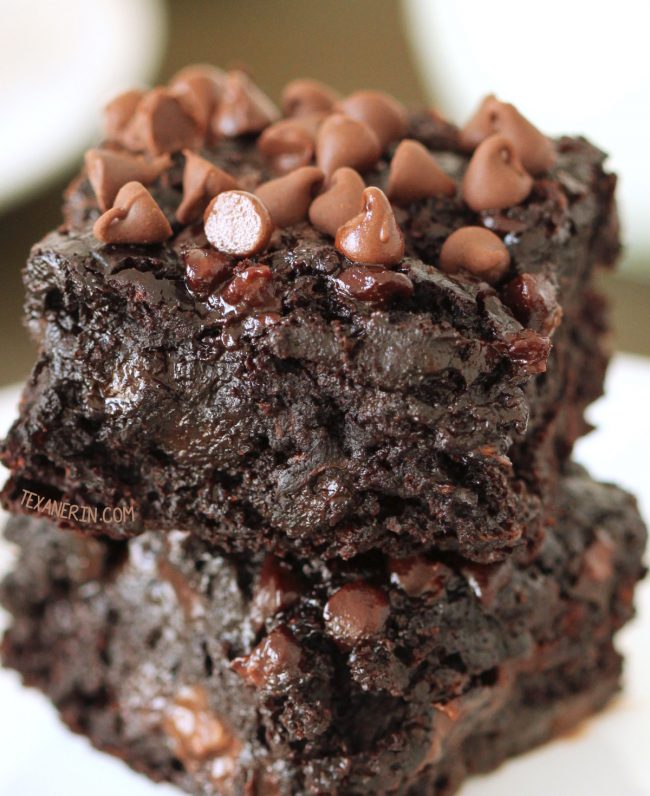 Buttermilk Carob Zucchini Cake (gluten free) (Raia's Recipes)
Moistest Zucchini Cake (Dairy and Nut Free) (Eat Beautiful)
Zucchini Oat Chocolate Chip Cookies (Homespun Seasonal Living)
Chocolate Zucchini Cupcakes or Muffins (Just Take a Bite)
Zucchini Brownies (Texanerin)
Summer Squash Gummies (Common Sense Home)
So many tempting ways to use zucchini — I'll bet you have trouble deciding where to start! What are your favorite healthy zucchini recipes?
If you love the idea of making healthied-up desserts with veggies like zucchini, check out this homemade fruit leather made from rhubarb or easy rhubarb crisp.
Or try dessert recipes featuring these super-healthy veggies:
If you're growing zucchini in your garden, be sure to check out these 14 companion plants for zucchini for bigger harvests.
Putting inexpensive veggies to delicious use is just one strategy for eating healthy on a budget. Find lots more in

The Savvy Guide to Eating Healthy on a Budget

. 
Pin to save these healthy zucchini recipes for later!
Photo credits: csouza_79 (via Flickr), Raising Generation Nourished, This Is So Good, Belly Rumbles, A Virtual Vegan, Delicious Balance, Texanerin
Susannah is a proud garden geek and energy nerd who loves healthy food and natural remedies. Her work has appeared in Mother Earth Living, Ensia, Northern Gardener, Sierra, and on numerous websites. Her first book, Everything Elderberry, released in September 2020 and has been a #1 new release in holistic medicine, naturopathy, herb gardening, and other categories. Find out more and grab your copy here.